In accordance with the location in the project, Ethernet switch can be classified as access switch, aggregation switch and core switch. Most of LINKOH's products are access switch, since it has the biggest quantity in projects. Meanwhile LINKOH also developed some aggregation and core switches. LK5044XP12C32F is the most popular model during this series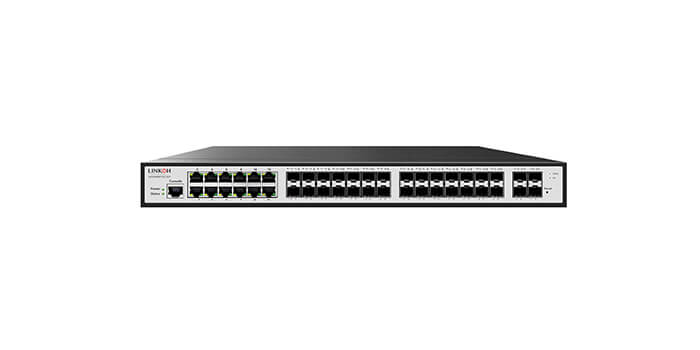 LK5044XP12C32F is equipped with 12*10/100/1000M BASE-T, 28*100/1000M BASE-X and 4*1G/10G BASE-X ports. With L2+ management function, it is a ideal choice for most small and medium business.
LK5044XP12C32F supports software and hardware based IPv4/IPv6 functions in a small network. Static Routing is a routing mechanism that is handled by the Internet Protocol (IP) and that depends on manually configured routing tables. Routers that use static routing are called static routers.
The 28 SFP slots built in the switch support dual speed as it features 100BASE-FX and 1000BASE-SX/LX SFP fiber-optic modules. The administrator can flexibly choose the suitable SFP transceiver when considering transmission distance and speed. The distance can be extended from 550 meters to 2km for multi-mode fiber, and up to 10/20/30/40/50/70/120 kilometers for single-mode fiber or WDM fiber. They are well suited for applications within the enterprise data centers and distributions.
LK5044XP12C32F is loaded with powerful traffic management and QoS features to enhance connection services by telecoms and ISPs. The QoS features include wire-speed Layer 4 traffic classifiers and bandwidth limit that are particular useful for multi-tenant unit, multi-business unit, Telco, or network service provider's applications. It also empowers the enterprises to take full advantage of the limited network resources and guarantees the best performance in VoIP and video conferencing transmission.