Power over Ethernet (shorted as PoE) is a technology, that pass electric power along with data on twisted-pair Ethernet cable. It allows a single cable to provide both data connection and electric power to devices such as wireless access points (WAPs), Internet Protocol (IP) cameras, and voice over Internet Protocol (VoIP) phones.
The IEEE 802.3af-2003 PoE standard provides up to 15.4 W of DC power (minimum 44 V DC and 350 mA) on each port. Only 12.95 W is assured to be available at the powered device as some power dissipates in the cable. The updated IEEE 802.3at PoE standard also known as PoE+ or PoE plus, provides up to 25.5 W of power for Type 2 devices. The IEEE 802.3bt standard further expands the power capabilities of 802.3at. It is also known as PoE++ or 4PPoE. The standard introduces two additional power types: up to 51 W delivered power (Type 3) and up to 71.3 W delivered power (Type 4). Each pair of twisted pairs needs to handle a current of up to 600 mA (Type 3) or 960 mA (Type 4).
With PoE technology greatly reduced the project cable difficulty. Power feeding up for IP camera and data transmission can be done via one single UTP cable, no extra power adapter for IPC. In the video surveillance projects, PoE switch is the most popular choice.
As a professional PoE switch manufacturer, LINKOH offers various choices for different applications. The unmanaged PoE switch is a cost-effective solution for most SOHO and home usage. LINKOH provides 4/8/16/24 ports PoE switch with 10/100M or 10/100/1000M for different applications.
While the managed series can be used in SMB projects where require center management. LINKOH managed PoE switch supports various PoE management function, such as PoE priority, PoE schedule, PoE PD-alive check etc.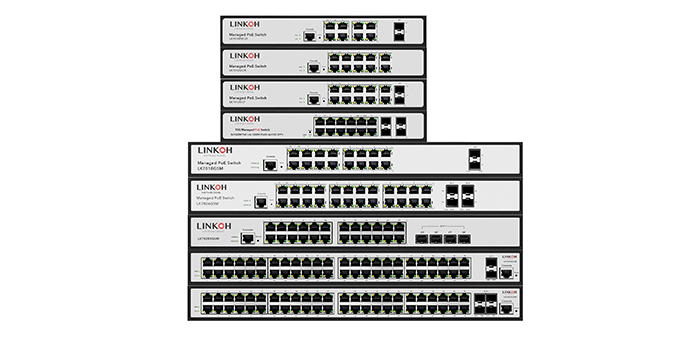 For outdoor surveillance, such as smart city, highway, LINKOH industrial PoE switch is a ideal solution. For these projects stability is always in the first. From hardware we offer IP40 case with 6KV surge protection, 6KV contact/8KV air ESD protection. While various management function to ensure the system stability, such as G.8032 ERPS, spanning tree etc.