LINKOH LK3011XP10C1F, an ideal 10G PoE Switch, provides a cost-effective advantage to local area networks of SMBs. Offering Layer 2 data packet switching and stable operation, this model also complies with IEEE 802.3at Power over Ethernet Plus (PoE+) at an affordable price. The LK3011XP10C1FP is equipped with 8 -10/100/1000BASE-T Gigabit Ethernet ports, 2-2.5G RJ45 port and 1-10G BASE-X SFP interfaces with inner power system. Its 8 Gigabit and 2*2.5G Ethernet ports are integrated with an 802.3at PoE+ injector function. It offers a rack-mountable, safe and reliable power solution for SMBs deploying Power over Ethernet networks.
Ideal PoE Solution for PoE IP Surveillance
The LK3011XP10C1F brings you an ideally secure surveillance system at a lower total cost. The product provides 802.3at PoE+ ports able to feed sufficient PoE power to IEEE 802.3af/IEEE 802.3at PoE+ IP cameras at the same time. It is also able to connect with  NVRs, uplinked to backbone switch and the monitoring center. With such a high-performance switch architecture, the recorded video files from the PoE IP cameras can be saved to the NVR system where the administrator can control and monitor the surveillance images in both the local LAN and remote sites.
New Solution for WIFI 6 Application
With two 2.5G copper ports, the LK3011XP10C1F can work with the new generation WIFI 6 APs. Comparing with WIFI 5, WIFI 6 requires larger bandwidth ( more than 1Gbps) for connection. 2.5G copper port is an ideal solution for it, while provides up to 30W PoE for the wireless AP.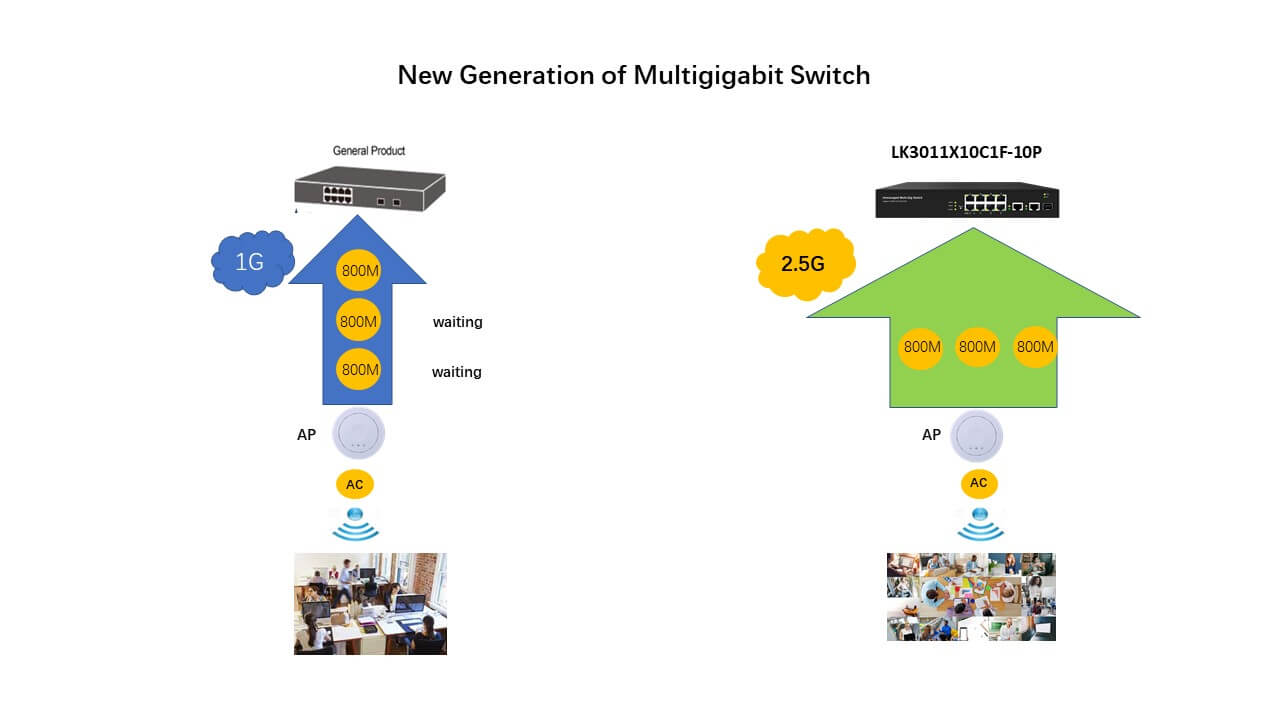 Easy Cable Connection
With data switching and Power over Ethernet integrated into one unit, the LK3000 series reduces cabling requirements and eliminates the need for electrical outlets on the wall, ceiling or any unreachable place. A wire that carries both data and power can lower the installation costs, simplify the installation effort and eliminate the need for electricians or extension cords.