Designed to be an ideal industrial networking infrastructures, LK6020P12C8F industrial PoE switch has plentiful features in both hardware and software. As a layer 2+ managed switch, it's can be programmed for advanced switch management functions such as dynamic port link aggregation, 802.1Q VLAN, Mirroring, Port isolation, IGMP Snooping, DHCP Snooping, LLDP, PoE+ management features etc, which is easy to manage and maintain. For hardware, smart real-time led indicator, wide voltage input from DC 48~57V and so on would be integrated in this network PoE switch.
Intelligent PD–Alive Check for Frozen PDs
The LK6020P12C8F industrial PoE switch 20 ports can be configured to monitor connected PD's status in real time. Once the PD stops working and responding, the LK6020P12C8F will reboot the PoE port power and bring the PD back to work. It also greatly enhances the reliability in that the PoE port will reset the PD power, thus reducing administrator's management burden.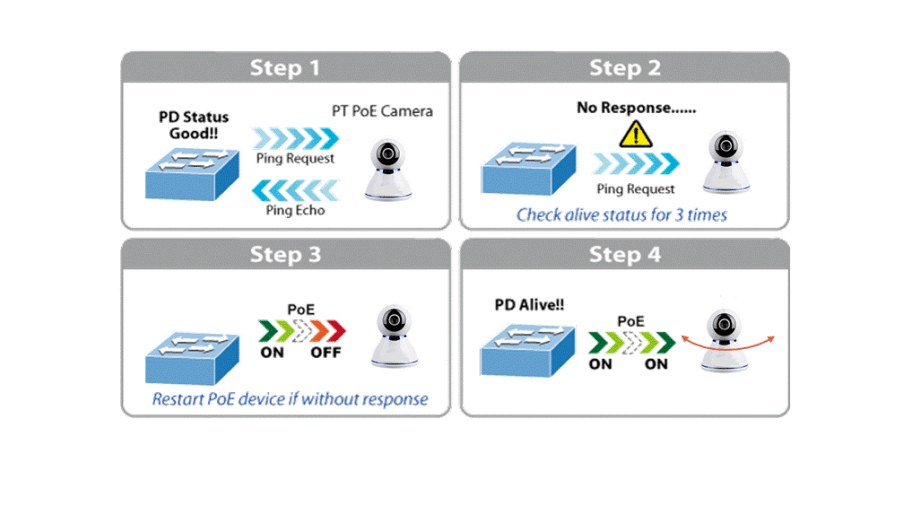 PoE Schedule Function for Energy Saving
For environmental protection purpose, the LK6020P12C8F switch Ethernet PoE can effectively control the power supply besides its capability of giving high watts power. The PoE schedule function helps to enable or disable PoE power feeding for each PoE port during specified time intervals and it is a powerful function to help SMBs or enterprises save power and money.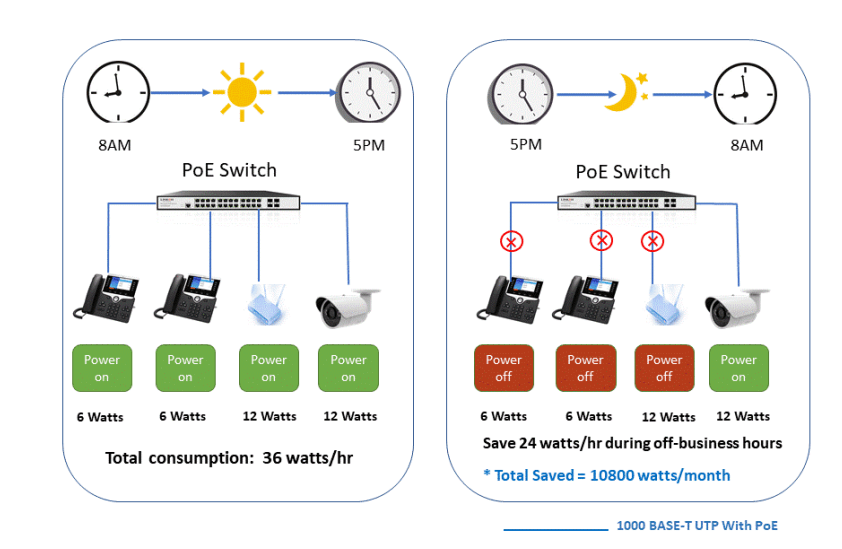 Scheduled PD Re-starting
The LK6020P12C8F smart switch PoE allows each of the connected PoE IP cameras or PoE wireless access points to reboot at a specific time each week. Therefore, it will reduce the chance of IP camera or AP crash resulting from buffer overflow.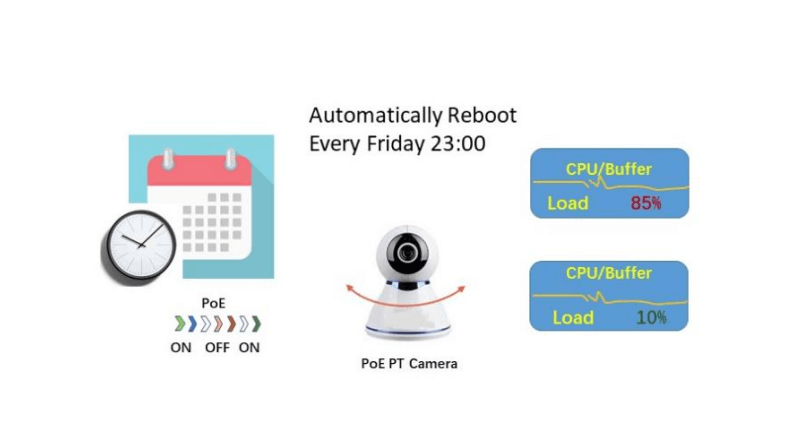 Fast Recovery Redundant Ring for Critical Network Applications
The LK6020P12C8F supports redundant ring technology and features strong, rapid self-recovery capability to prevent interruptions and external intrusions. It incorporates advanced ITU-T G.8032 ERPS technology, Spanning Tree Protocol (802.1s MSTP), and redundant power input system into customer's industrial automation network to enhance system reliability and uptime in harsh factory environments. In a certain simple Ring network, the recovery time of data link can be as fast as 20ms.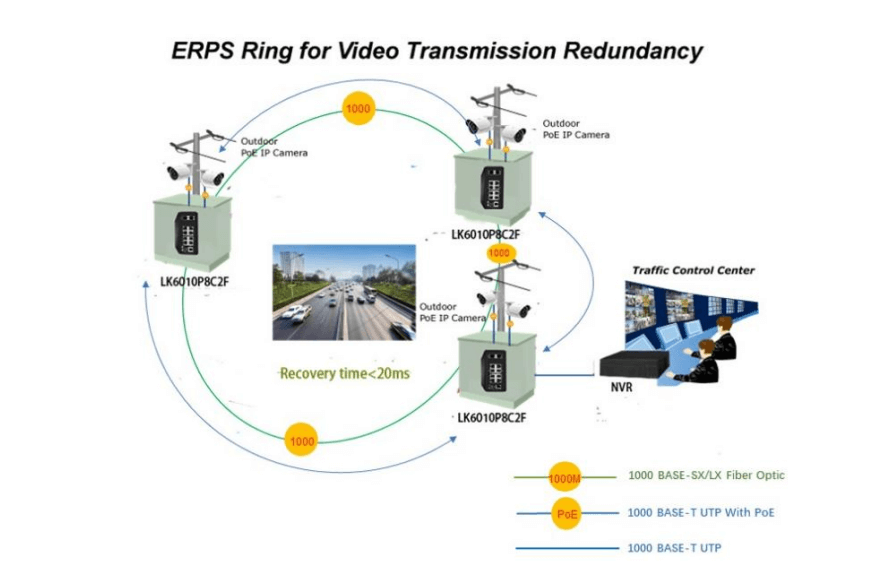 1588 Time Protocol for Industrial Computing Networks
The LK6020P12C8F is ideal for telecom and Carrier Ethernet applications, supporting MEF service delivery and timing over packet solutions for IEEE 1588 and synchronous Ethernet.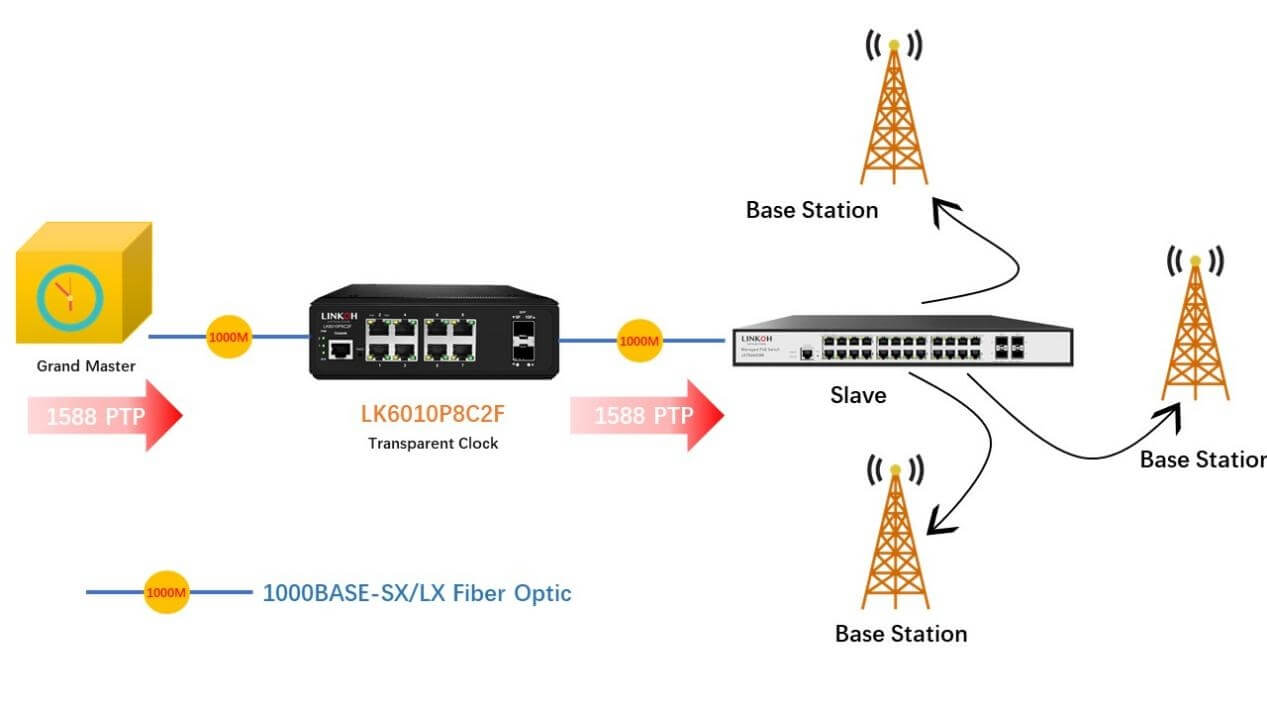 Strong Layer 2 Features
The LK6020P12C8F layer 2 Ethernet switch can be programmed for advanced Layer 2 switch management functions such as dynamic port link aggregation, 802.1Q tagged VLAN, Q-in-Q VLAN, private VLAN, Multiple Spanning Tree Protocol (MSTP), QoS, bandwidth control, IGMP snooping and MLD snooping. Via the aggregation of supporting ports, the LK6020P12C8F allows the operation of a high-speed trunk group that comes with multiple ports and supports fail-over as well.
Efficient and Various Management Methods
For efficient management, the LK6020P12C8F is equipped with console, Web and SNMP management interfaces.
With the built-in Web-based management interface, it offers an easy-to-use, platform-independent management and configuration facility.
For text-based management, it can be accessed via Telnet and the console port.
For standard-based monitor and management software, it offers SNMPv3 connection which encrypts the packet content at each session for secure remote management.
Intelligent PoE Switch SFP DDM Function
The LK6020P12C8F supports SFP-DDM (digital diagnostic monitor) function that greatly helps network administrator to easily monitor real-time parameters of the SFP transceivers, such as optical output power, optical input power, temperature, laser bias current, and transceiver supply voltage.