LK3006P5C1FM integrates the simplicity of unmanaged switches with the performance and reliability of managed switches to provide a cost-effective solution for users to integrate management at the edge of their network.
LK3006P5C1FM is a lite management PoE switch with 4*10/100/1000M PoE RJ45, 1*10/100/1000M Uplink Rj45 and 1*1000M SFP port. It is compatible with IEEE802.3.af/at standard. It supports Extend PoE . It is a ideal PoE solution for home, SOHO and SMB projects.
Auto PoE power adjustment for safety and energy saving
The PoE port of the lite management switches support 802.3af and 802.3at, providing up to 30W power supply to the connected device. The switches will negotiate with the connected devices to automatically adjust the PoE power, thereby saving energy. In addition, when the PoE port is connected to a PC, DVR, or other non-PoE device, the switch will automatically identify the device and will not output power to such device to ensure equipment safety.
PoE and Data Transmission up to 250M
The 4 ports lite management PoE switch can configure Extend PoE mode of each port on the web interface. In the "Extend PoE" operation mode, operates on a per-port basis at 10Mbps full duplex operation and can support 8~15-watt PoE power output over a distance of up to 250 meters, overcoming the 100-meter limit on Ethernet UTP cable.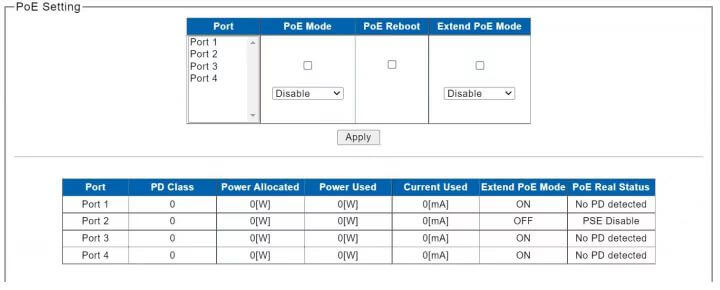 VLAN for Broadcast Storm Control
The lite management PoE switch provides convenient and flexible VLAN division, which can automatically divide different VLANs according to the type of equipment connected to the port, so that the surveillance network and data network do not interfere with each other, improving the stability of the entire network. This can help to prevent the IP camera's multicast or broadcast storm from influencing each other, thus fully meeting the requirements of the IP surveillance systems and Ethernet projects.