LK7028XGSM is a L2+ managed switch with 24 gigabit Ethernet ports and 4 1G/10G dual speed SFP ports. The 24 Ethernet ports supports IEEE802.3.af/at PoE output, can work with PoE PD devices like IP cameras, wireless AP, doorbell etc. With Rich L2+ management function, it is easy to set up to meet the projects technical requirements. It is an ideal solution for CCTV surveillance, wireless coverage and other SMB applications.
Rich PoE Management function
■ PoE PD-alive check
■ Scheduled power rebooting
■ PoE schedule
■ PoE usage monitoring
■ Soft-reboot PoE Non-stop
■ PoE port power feeding priority
10Gbps Uplink Capacity for Big Bandwidth Application
10G Ethernet is a big leap in the evolution of Ethernet. The 10G SFP+ slots supports dual-speed 10GBASE-SR/LR or 1000BASE-SX/LX, meaning the administrator now can flexibly choose the suitable SFP/SFP+ transceiver according to the transmission distance or the transmission speed required to extend the network efficiently. It is a cost-effective solution for SMB network to achieve the maximum performance of the 10G networks
Solution for IPv6 Networking
With the IPv6/IPv4 dual stack and other management functions, the LK7028XGSM is the best choice for IP CCTV surveillance, VoIP and wireless solution providers to develop the IPv6 network. Meanwhile they help the SMBs to upgrade their network infrastructures to the IPv6 era without any extra investment.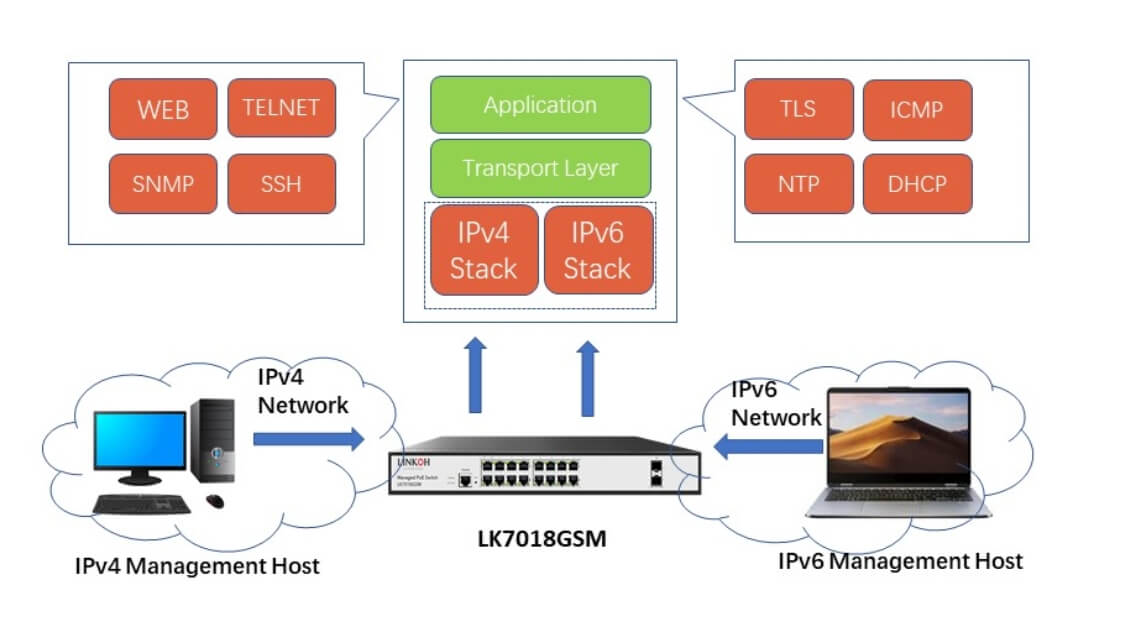 Robust Layer 2 Features
The LK7028XGSM can be programmed for advanced switch management functions, such as port aggregation, Q-in-Q VLAN, Spanning Tree Protocol, QoS, bandwidth control, ERPS, IGMP/MLD snooping etc. The LK7028XGSM allows the operation of a high-speed trunk combining multiple ports.
Powerful Security Functions
The LK7028XGSM provides a comprehensive access control list (ACL) for enforcing security to the edge. It can be used to restrict to network access by denying packets based on source and destination IP address, TCP/UDP port number or defined typical network applications. Its protection mechanism also comprises?802.1x Port-based and MAC-based user and device authentication. With the private VLAN function, communication between edge ports can be prevented to ensure user privacy.
Enhanced Security and Traffic Control
The LK7028XGSM supports DHCP Snooping, IP Source Guard and Dynamic ARP Inspection functions to prevent IP snooping from attack and discard ARP packets with invalid MAC address. The network administrator can now construct highly-secure corporate networks with considerably less time and effort than before.
User-friendly Secure Management
For efficient management, LK7028XGSM managed switch series is equipped with console, web and SNMP management interfaces. With management interface, LK7028XGSM offers an easy-to-use, platform independent management and configuration facility. The LK7028XGSM supports SNMP and it can be managed via any management software based on the standard SNMP v1 or v2 Protocol. Meanwhile the LK7028XGSM offers Cisco-like command via Telnet or console port and customer doesn't need to learn new command from these switches. Moreover, the LK7028XGSM offers the remotely secure management by supporting SSH,SSL and SNMP v3 connection where the packet content can be encrypted at each session.
Intelligent SFP DDM Function
TheLK7028XGSM support SFP-DDM (Digital Diagnostic Monitor) function that greatly helps network administrator to easily monitor real-time parameters of the SFP and SFP+ transceivers, such as optical output power, optical input power, temperature, laser bias current, and transceiver supply voltage.